On the evening of Wednesday 15th August 2018, we were honoured to perform at the Menin Gate Memorial to the Missing in Ypres, Belgium. We sang two original songs, "The Call" and "Carved in Stone" (a song specially written for this event) during the Last Post Ceremony, which happens in the Menin Gate every day at 8pm.
The Menin Gate Memorial to the missing is one of four British and Commonwealth memorials to the missing in the battlefield area of the Ypres Salient in Belgium. The memorial bears the names of 54,389 officers and men who fell in the Ypres Salient before 16th August 1917.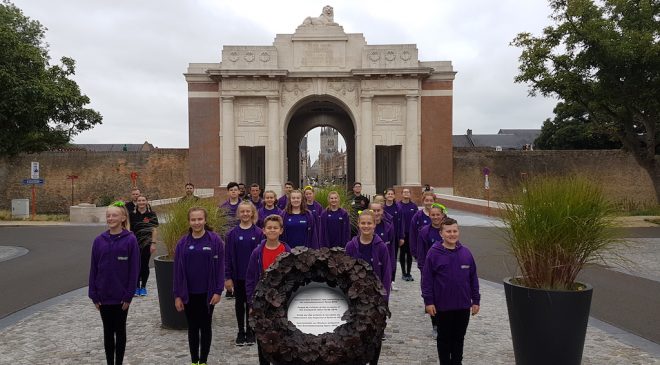 The sheer size of the memorial brought our young people to silence as they read the many names engraved on the walls. After noting these names, our young people gave a passionate performance to commemorate all the fallen men, not just named in the Menin Gate, but for the millions who gave their lives for the freedoms we have today. After this performance, our young people received many "thank you"s from the general public who found their performance passionate and meaningful. Our young people also had the opportunity to speak to some of the current serving military personnel.